Offertory: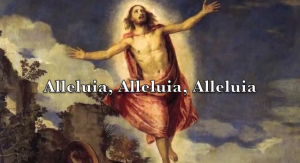 Concordi Laetitiae from the Parish Book of Chant organ accompaniment.
Communion motet:
O Filii et Filiae being sung as a Communion motet in Ottawa.
And if you have time, here's O Filii at St Mary's Cathedral, very spiffy. Slightly different tune to our version, but great organ, descants, the works.