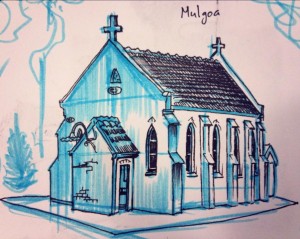 Each time I get ready for one of these, I run through the music with someone and go over each phrase, thinking I should record this, then, no, I'll get it myself first, then do it over again, bit by bit.
Then I finally get round to recording and only record the straight through version.
Hopefully you can stop and start the recording and repeat back bits as you need.
Go get your music at The Library of Gregorian Chant Propers in PDF or Rene Goupil. You'll need to look for 19th Sunday after Pentecost.
The Introit - Salus populi
The Communion (I sing it through twice) Tu Mandasti
We can probably pick up a few verses for Communion time to go with the antiphon.
I've been learning Palestrina's 3 part motet Jesu Rex Admirabilis. It would be great if we could sing this on Sunday.
So that's it! See you 9.30am at Mulgoa to practise before Mass.
There's a big thing on at Mt Schoenstatt on the same day - if you get mixed up it should be lovely whichever thing you attend. But if you're hoping to join the choir, aim for St Mary's Church on Mulgoa Rd, on the corner of Winbourne Rd. Open google maps location