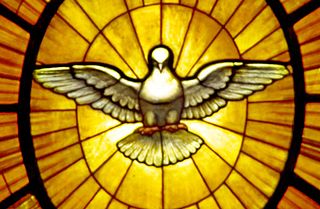 Pentecost is coming up on the 15th May this year. As it is a huge important feast to rival Christmas day, we've swapped our regular 2nd Sunday of the month slot for the big feast day. 1st practice will be 3pm 8th May, then practice on the day 3pm. Mass 5pm 15th May, Our Lady of the Nativity Catholic Church, Lawson.
Mass 1, Credo 1 - same as we've sung for Easter so far.
Introit, Sequence, Offertory and Communion as written. See Rene Goupil, scroll down for Pentecost.
I'd love to sing the sequence in two choirs. The tune is echoed every second verse. It's called the Golden Sequence: "It is commonly regarded as one of the greatest masterpieces of sacred Latin poetry ever written." from Michael Martin's Treasury of Prayers.
Alleluia psalm toned as in the Liber Brevior
Veni Creator sung straight chant thing out of the Mass Books after Mass.
The Liber Brevior is a very handy thing to have if you can get one. It has all the music I've mentioned here and covers all Sundays through the year. You can download a pdf version from Musica Sacra's Latin Settings Page (scroll down for Liber Brevior 1954).